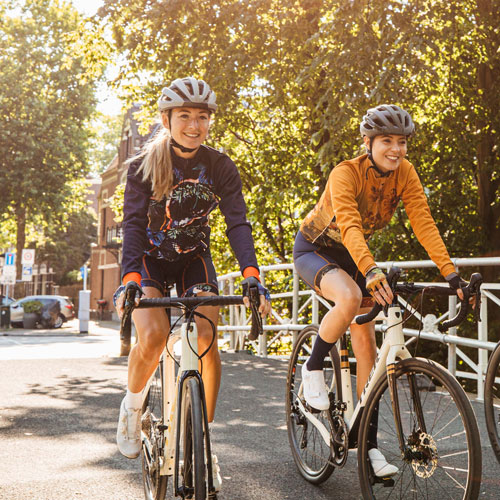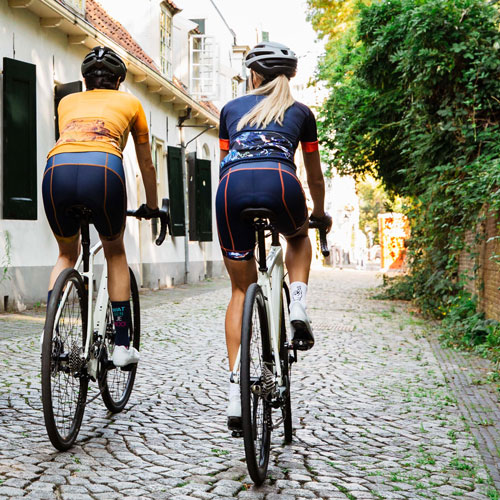 DISCOVER NOW
Head for the forest or the heath. Or why not ride into the jungle? This year will be all about your new cycling adventures in nature. You will shine like never before!
ADD A GOLDEN GLOW TO YOUR RIDES
Our favourite moment of the day? That's when the sunset covers everything around us with a golden glow. When the day is almost over, but not just yet.
It's already quiet on the street or in the forest, giving you all the time you need to focus your full attention on everything you see around you. What a wonderful world it is! Everything shines, just like you, when you wear this feminine, golden cycling kit.
TIME FOR A NEW CYCLING ADVENTURE
Exploring a new route, for the first time on the road with a new group or your first bikepacking adventure: whatever your plans are and wherever you go, the Secret Jungle set gives you extra self-confidence and motivation.
Got completely lost along the way or are you cycling kilometres through no-man's-land? The koalas and birds on your jersey ensure that you always have a couple of cycling buddies with you. The cool print and the feminine salmon pink details make this the perfect kit for your next cycling adventure.
""Seek freedom, find nature. This is the year in which you confidently embark on challenging cycling adventures with your new cycling outfit. Can you already see yourself cycling in our 2021 collection?"
Marloes – Ingeklikt founder